Sustain-ability: ECOGRAPE services
Welcome my friends, who join in working for this planet.
"Ask yourself what is correct ethically and aesthetically, and then what is useful economically; something is right if it helps to preserve the integrity, the stability and the beauty of the ecological community."

Aldo Leopold.
---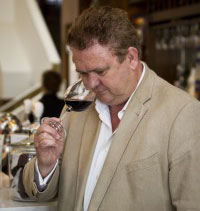 Neil Hodgson Article
Neil Hodgson is a member of the Wine Writers of New Zealand, writes a wine column for the Nelson Mail and also contributes to Admire Magazine, The Leader and New Zealand WineGrower Magazine.
Neil Hodgson on biodynamic growing practices
---
Ecogrape products and services:
Planning and Implementation assistance for sustain-able, organic/biodynamic agriculture systems
Comprehensive, ecologically integrated, and site-specific programmes for yield enhancement, plant health, and habitat management
Supply of Eco-friendly Agro-inputs, accepted by BIO-GRO, IFOAM and IPM standards, registered NZFSA, and;
EC 2092/91 regulation
Biological/Ecological plant protection programmes. Botanical pest management with a variety of plant health promoters which induce resistance to pathogens
ESTA Soil Test: An extended soil test with 14 determinants which covers facts and provides insight on physical, chemical, environmental and BIOLOGICAL aspects of your soil in terms of cation exchange capacity, humus quantity and quality, soil structure and soil fertility.
Farm Homeopathy: Homeopathic healthcare of farm animals offers worming tonics, lice, tick and blowfly deterrants and is a safe way of healing without side effects, addictions or withholding periods.
Plant Homeopathy: Use of homeopathy for your vegetables, flowers, fruit and crops
Click here for our order form.